Program Outline
Master of Business Administration (MBA)
Duration: 2 Years
Affiliation: PES University
Campus: Ring Road Campus
Admission Test: PESSAT/ CAT/ CMAT/ MAT/ ATMA
Eligibility
Atleast 50% in Bachelor's degree from any recognized University. Test Scores in PESSAT/ CAT/ CMAT/ MAT/ ATMA accepted.
Register for PESSAT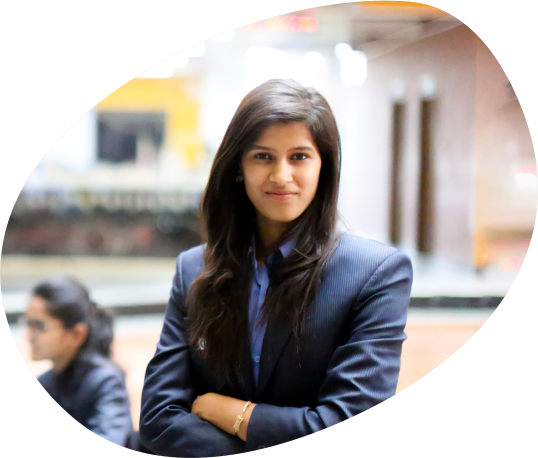 The PES Investment
WE WELCOME YOU TO THIS EXHILARATING WORLD AT THE PES SCHOOL OF MANAGEMENT. GRADUATING STUDENTS MUST BE EQUIPPED TO NOT ONLY SURVIVE BUT THRIVE IN THIS TRANSFORMED WORLD.
THE FORWARD-LOOKING MANAGEMENT DEPARTMENT'S AVOWED INTENT IS TO ENSURE THAT STUDENTS ARE CORPORATE-READY.
MBA@PES DELIVERS TRUE WORLD-CLASS EDUCATION. IT REFLECTS A HIGH DEGREE OF RIGOUR IN ITS CHOICE OF STUDENTS AND CURRICULUM. ONLY SCHOLASTICALLY BRIGHT STUDENTS ENTER OUR PROGRAMS. OUR FACULTY ARE BEST-IN-CLASS. WE ARE CLEARLY ONE OF THE MOST SOUGHT-AFTER MANAGEMENT SCHOOLS IN THE COUNTRY. THE INTENT IS TO MAKE THE PROGRAMS WHOLESOME AND HOLISTIC, WHILE DELIVERING TRUE VALUE TO STUDENTS. THE RESULT: BETTER PLACEMENTS, BETTER SALARIES.
PES offers MBA in 2 distinguised campuses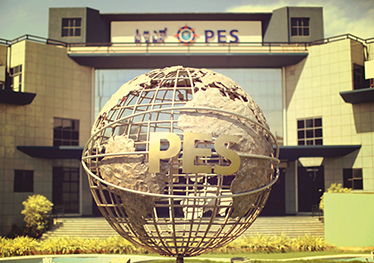 MBA from PES University
Duration : 2 Years
Afiliation : PES University
Admissions through MAT/CAT/CMAT/PESSAT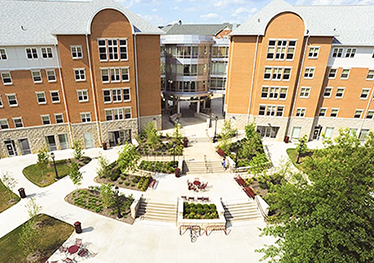 MBA from Indiana University of Pennsylvania (IUP), USA
Duration : 2 Years
Proficiency Courses in Management @ PES Campus, Bangalore leads to an MBA Accredited by AACSB International (www.aacsb.edu)

PES offers everything you need to succeed
You'll find that everything at PES is single-mindedly focused on addressing student needs. We are clear that it is our responsibility to help our students realize their goals in an increasingly competitive world. We have consistently produced excellent results and PES alumni can be found at premier organizations in India and overseas. From academic excellence to leadership qualities, a nurturing environment to cutting-edge infrastructure, PES offers everything you need to succeed.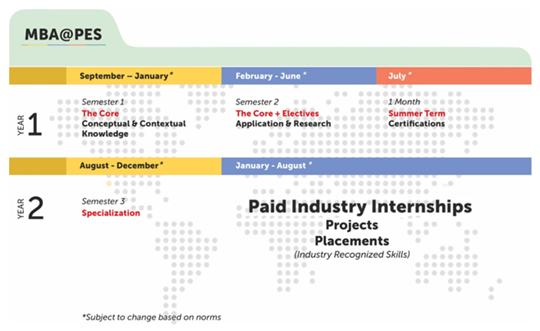 MBA@PES delivers a truly holistic experience to students. The first year is entirely devoted to core courses that lay the foundation to assimilate specialization courses in the second year. Running in parallel with the core courses are the Harvard Business School foundation courses, designed to give one the fluency, skills and confidence needed to fully participate and succeed in the world of business.
The summer term is when students experience the residential programs at the scenic campuses of IIT-Madras and NISM at Mumbai, which deliver programs in Business Analytics and Financial Markets respectively. Also, tucked in this term are Career courses which considerably enhance placement opportunities.
The second year of the program is truly adventurous. PES strongly believes that learning is complete only when students spend meaningful time within the industry. A substantial part of the program time is designed to bring about industry exposure through paid internships. This is also the time when placements happen, and we encourage companies to hire students from the day an offer is made. Interwoven into the second year are specialization courses that are held on weekends, designed to synchronise with the week-day routine at the workplace.
---
MBA specializations @ PES
AS THE WORLD TURNS DIGITAL, WE DESIGN OUR PROGRAMS WITH AN EAR TO THE GROUND. EVERY COURSE IS DESIGNED TO ADDRESS A COMPONENT OF THE DIGITAL ECONOMY. THE FOLLOWING SPECIALIZATIONS IN MBA BUILD A STRONG DIGITAL FORTRESS AROUND THE CORE COURSES.
Business Analytics
Specialization will prepare students in Data Analytical skills for which there is intense demand, taught through SAS, Tableau and R
Finance
Specialization is rooted in building expertise in the burgeoning financial and banking services
Marketing
Will provide a strong base in digital marketing and e-commerce
Human Capital
In the digital era trains students to manage and harness human talent in the knowledge economy
Hospital & Healthcare Management
Specialization will enable the students to handle the business side intricacies in the hospital & healthcare industry with utmost professionalism and expertise
Operations Management
Will enable the students to manage a business through design, planning, control, coordination and improvement of business processes, systems and resources essential to meet consumers' needs
To administer these contemporary programs, the department is backed by world class facilities. The Analytics center is a cutting-edge lab with software such as IBM's COGNOS, apart from InfoSphere and SAS, world leaders in Analytics software. A state-of-the-art finance lab complements class-room teaching.
Career Growth
Apart from formal academic tutoring, student learning is enhanced by several facilitating stimuli. The specializations catering to individual interests, mapping high growth areas, result in better placement of students. The continuous curriculum updating reflects our desire to remain relevant and one step ahead of the industry.
To bolster teaching, research publications are mandatory for all faculty members. Taking this commitment to foster research and publication in all areas of management further, the department publishes a bi-annual journal, PES Business Review. This journal is indexed in i-scholar, J-gate, EBSCO and ProQuest, making PES Business Review a journal of repute and high standing.
The field of Business Analytics offers multiple job profiles for aspirants to explore. Being a MBA Business Analytics graduate you can either continue with your academics and seek higher education or seek jobs based on your qualification, inclination, preferred area, etc. Following are the top career avenues to explore after completing a MBA in Business Analytics degree.
Placements - Paid Industry Internships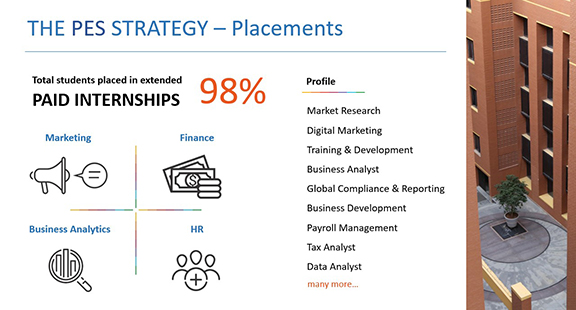 01
Ranked #1
#1 University in Karnataka (New Universities under 5 years) by KSURF
02
India's Most Preferred
PES is the second most preferred destination next to IIMB for B-School aspirants – Times of India
03
Ranked #1
#1 B School in Karnataka – Times of India B School Rankings 2021
04
Ranked #5
PES University ranked #5 in Outlook-ICARE India University Rankings 2020