Program Outline
Bachelor of Pharmacy (B.Pharm)
Duration: 4 Years (8 Semesters)
Affiliation: PES University
Campus: Electronic City (EC) Campus
Admission Test: PESSAT
Approval Body: Pharmacy Council of India (PCI), Govt of Karnataka.
Eligibility :
10+2 (PCM/B) from a recognized board. Register for PESSAT Today – www.pes.edu/pessat
Register for PESSAT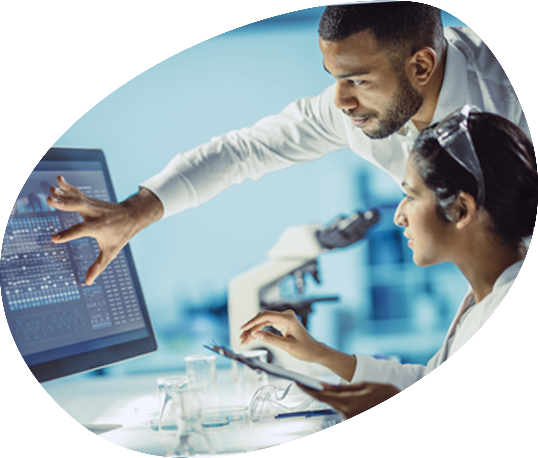 B.Pharm, is a four-year (eight semester) undergraduate programme and one of the most popular pharmacy degree that provides students with essential knowledge of medicine manufacturing and prescription of drugs. B.Pharm students are well-versed with drug development,
B.Pharm students can work as pharmacists in government and private hospitals, clinics and health departments. Additionally, they can also be a drug inspector, chemist or druggist, and a quality control and manufacturing chemist. The program provides the opportunity to open an own manufacturing unit as well.
Program Design and Delivery Method
Bachelor of Pharmacy is a four years program that prepares students for career in pharmaceutical industry and research. The candidates having Diploma in Pharmacy (D. Pharm.) qualification may join in the second year of B. Pharm. as a lateral entry. The students are exposed and trained in synthetic and natural chemistry and drugs formulation development, quality control of drugs and formulations, screening of substances for pharmacological activities, and to a little extent in the pharmaceutical care process. The students also undergo focused training in the 'Practice School' being held at the college and 'Industrial Training' at an identified pharmaceutical industry for a specified period of time.
---
Extra-Curricular / Co-Curricular Activities
In Pharmacy, various Co-Curricular and Extra-Curricular activities are regularly conducted along with academic activities and students are continuously inspired and motivated to participate in these various activities to ensure the overall development of the students.
Curricular or academic activities encompass the prescribed courses of study. The curricular activities at our College include Workshops, Seminars, Webinars, Guest Lectures and Industrial Trips for the students, by the students, for the faculty, by the faculty.
Workshop: An interactive session with hands-on training under guidance of an expert. Students get a platform to share ideas and to know the field of their interest. They learn to develop new skills and also to work in a team.
Seminar: A seminar focuses on a specific topic or discipline through presentations and discussion. It helps students in improving communication skills, gaining expert knowledge, networking with others and renewing motivation and confidence.
Expert Lectures: Guest Lecture is a way of enriching students with the latest updates of the Industries. Students are bestowed with knowledge about industry needs and latest technical updates etc.
Industrial Visits: Students are made to visit various companies and get insight of the internal working environment of the company. It helps the students to understand the process of any organization and also strengthen their overall learning interaction with business executives.
Summer Internships: Summer Internship is a structured work experience supervised by a professional in the field related to a student's major and/or career goal. It enhances a student's academic, career, and personal development. During the summer internship various skill development courses are being conducted which will enhance the employability of our students.
Personality Development Program (PDP): It is conducted by professional trainers/experts from corporate as also by dedicated in-house faculty to actually bring a change in the traits of students in terms of values, behaviour and personal growth. It enhances their body language, self-discipline, includes boosting one's confidence, improving language speaking abilities and widening one's scope of knowledge.
Aptitude: Prepare students for placements by enhancing students' understanding in reasoning, numeric aptitudes, language proficiencies and general awareness.
Techno-Cultural Club: The Institute encourages various Technical Clubs & Societies. These Clubs are involved in preparation of novel projects of pharmaceutical Sciences. They develop awareness about new technologies and unleash creative skills of students.
Resume Writing: Trains students about the current trend to present their Personal, Educational & Professional achievements and Strengths in an impressive manner. They learn how to write covering letter through which they can efficiently present their extra information. They also get an exposure to the Social Professional Sites like LinkedIn.
Group Discussion: Help students to improve their ability to understand a topic/idea from different perspectives. They are able to realize its importance as a standard recruitment and selection tool. Students are trained to demonstrate their leadership, team work, oral and body language skills.
Personal Interview: A platform to train students in improving their listening abilities and handling interviewer's questions and answer accordingly so that they are able to remove hesitation and anxiety during placement process.
Social Activities: Under this, various activities are undertaken by student volunteers like Blood Donation Camp, free Medicine Distribution Camp, Tree-Plantation Drives etc. which enhance their team spirit and time management skills and also bring social welfare awareness.
Cultural Activities: The various activities undertaken are-Singing, Dancing, Playing Musical Instruments, Compering, Skit, Band, Stand-up Comedy, Poetry, Fashion Show etc. These activities help to develop self-confidence, cultural interest, creativity and sense of cooperation among students.
Literary Activities: The various activities undertaken are – Extempore rounds, Speeches, Debates, Paper Writing, Group Discussions etc. They develop creativity and communication skills among students in a competitive, yet conducive environment.
Fine Arts and Photography: The various activities undertaken are-Painting, Caricature, Photograph Collection, Mehndi, Rangoli, Nail Art, Arranging Exhibitions etc. It helps students to develop talent of their interest and innovative ideas.
Games & Sports: The Institute strongly believes that a healthy physique leads to a healthy mind. The Institute encourages sports culture and students also reciprocate by actively participating and distinguishing themselves at the Zonal and State Level Sports Meets.
Pedagogy Method
B.Pharm program is a four-year program which includes academic study and clinical training. The academic study includes subjects like human anatomy physiology, biochemistry, pharmacology, pathophysiology, medicinal chemistry, pharmacognosy etc. The clinical training includes internships in various hospitals and community pharmacies. After successful completion of the program, B.Pharm graduates are eligible for registration in state Pharmacy council and Tracking system. We at Faculty of Pharmaceutical sciences conduct B.Pharm program based on industry driven approach to prepare our students for a great career in pharmacy.
Industry/ Corporate Connect
The Pharmacy profession is growing day by day and the demand of registered pharmacist's also increased. Pharmacy profession is having a remarkable position in corporate world. Therefore, it is need of an hour to educate pharmacy students with noble techniques and to develop skill during their courses. The syllabus of B.Pharm is designed in such a way that students should be aware about the latest techniques and methodology. Hence, focus on practical training along with theory is incorporated
The final year students are exposed to practical training and involving them in either industrial project or consultancy. Special training also being provided to final year students based on their area of interest.
Placement Opportunities & Career Assistance
Students have the option of working in a pharmaceutical company or working as a pharmacist. Students have access to a wide range of options in both the public and private sectors. They can also work for the government.
They can work in government hospitals, private medical shops, and private hospitals/clinics after earning a bachelor's degree. They can even open their own medical practice and store.
Students have the option of working in a pharmaceutical company or practicing as a pharmacist. They can work in departments such as quality control, manufacturing, packing, and marketing at a pharmaceutical company.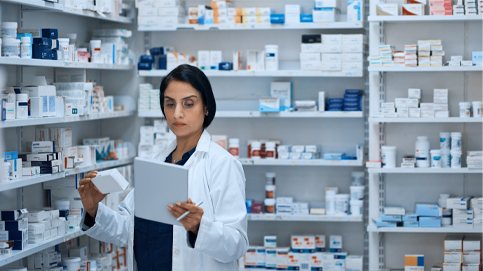 Specializations / Domains
Specializations are as follows: Pharmaceutical Chemistry, Pharmaceutical Technology, Pharmaceutical Analysis and Quality Assurance, Clinical Pharmacy.
The four main subjects included in B. Pharm are pharmacology, pharmaceutics, pharmaceutical chemistry and pharmacognosy, which are known as pillars of pharmacy.